Management Surveys
A Management Survey is a visual inspection of a property or area of works. Samples from any exposed suspected asbestos materials are taken where reasonable practicable, but any materials which cannot be accessed can only be presumed to contain asbestos.
R&D Surveys
A Refurbishment and Demolition R&D Survey is carried out when it's the fabric or structure of a building may be disturbed during refurbishment, reconfiguration or demolition.
Asbestos Testing
Asbestos Testing & Sampling involves taking a small amount of a suspect material and having it tested by a UKAS accredited to find out if it contains asbestos. An asbestos check tells you exactly what you're dealing with so you'll know you're safe to continue working or living around the material without concern.
An Asbestos Survey ensures you're abiding by the law.
Asbestos Surveys (sometimes referred to as an asbestos inspection or asbestos report) are effective in ensuring that any products which are suspected of containing asbestos are identified quickly; reducing exposure to friable asbestos fibres. The survey can identify the location of Asbestos Containing Materials (ACM's), assess the amount of asbestos and also confirm the type of asbestos such as Chrysotile, Amosite, Crocidolite, Tremolite, Anthophyllite or Actinolite.

A dutyholder (someone responsible for a non-domestic building) has a legal obligation to identify and manage asbestos containing materials whether the building is being used, or not.

We offer a range of products including R&D Surveys, Management Surveys and Homebuyers asbestos reports.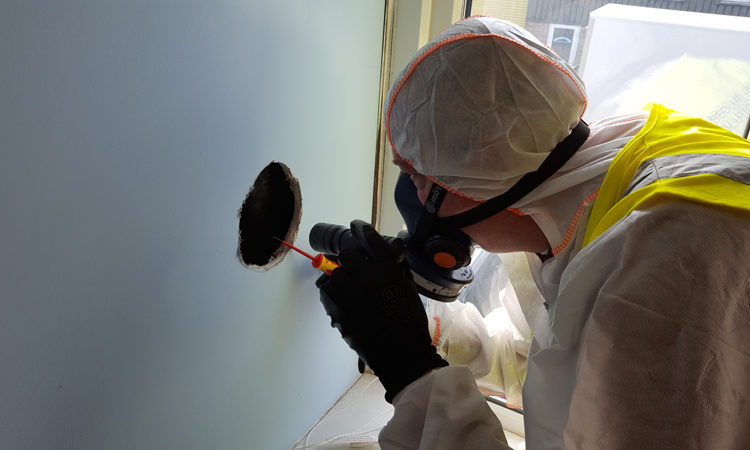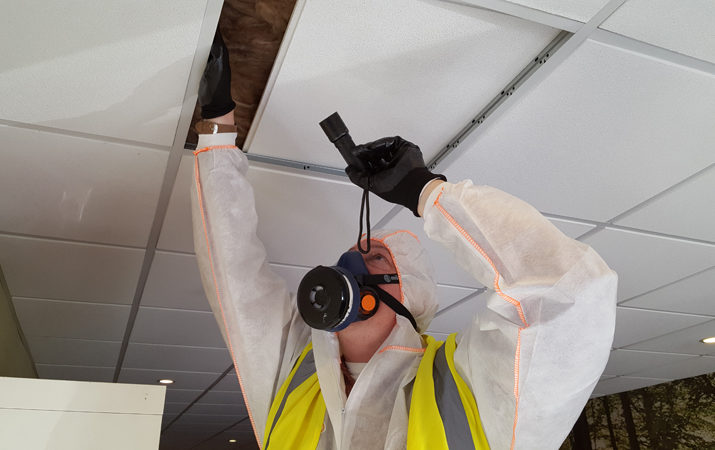 Employing A Qualified Surveyor Is Vital.
Missing asbestos containing materials can be potentially fatal. It's therefore important that you employ the services of a qualified person who carries either a BOHS P.402 qualification in Surveying and Sampling Strategies for Asbestos in Buildings or a UKAS accreditation.

The Control of Asbestos Regulations 2012 (CAR 2012) sets out the requirements regarding domestic and non-domestic properties and when an analysis of a property may be required. For example, all non-domestic properties building prior to 1999 must undergo a refurbishment survey before any refurbishment, alteration, adaptation or demolition work is carried out and details of the asbestos found during the inspection must be reviewed, recorded and actioned in accordance with CAR 2012.
ARE YOU A DUTYHOLDER?
The dutyholder is the owner of the non-domestic premises or the person or organisation that has clear responsibility for the maintenance or repair of non-domestic premises, for example through an explicit agreement such as a tenancy agreement or contract.
MANAGEMENT OR R&D?
The type of survey you need will depend on what is happening with the building and whether it's a domestic or commercial property.
BUYING A HOUSE?
If you're buying a house, a homebuyers asbestos survey can give you vital information about where potentially expensive repairs may be lurking in your new home.
More about Homebuyers Asbestos Surveys
CARRYING OUT SOME DIY?
Before you drill into that suspect material or remove that board, are you certain what it is? Asbestos testing can confirm if you're safe to continue and starts at just £50. Don't risk it.
More about Asbestos Testing
Common Asbestos Locations
Asbestos was used in many different materials and building processes over a period of around 70 years, most frequently:
INSULATION
Asbestos minerals were used in many insulating materials including AIB & pipe lagging.
WASTE WATER AND HVAC SYSTEMS
Heating flues, waste water goods and toilets were made out of various asbestos products.
FIRE PROTECTION
Although potentially deadly, asbestos was used in many fire proofing areas due to it's thermal properties.
DECORATIVE APPLICATIONS
Textured coatings (including Artex) often contained asbestos, right up until 1999.
Contact us
Questions? Queries? Get in touch: